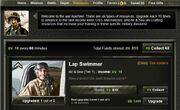 Resources are upgrades that you can purchase in order to increase the strength of your army and squad. Certain Missions require the purchase of Resources. There are six different types of resources that you can upgrade ten times.
List of Resources
Edit
Each of the six resources is listed below:
COMMAND HQ, SUPPLY, MORALE, OSS, MECHANIZED, and AIR/SEA.
Under each resource are the upgradeable tiers.
Each tier must be upgraded three times before advancing to the next tier.
Tier upgrade costs are listed in parenthesis below.
When all the resource's are fully advanced AND the maximum numbers of soldiers are enlisted to each resource you will earn 3,966,923 every 60 minutes or every 54 minutes as an officer.

COMMAND HQ
Sandbag Fortification (9,000)
Tent (27,000)
Abandoned Farmhouse (81,000)
Bunker (243,000)
Command Center (729,000)

SUPPLY
Airdropped K-Rations (30,000)
Runway (90,000)
Captured Port (270,000)
Petrol Refinery (810,000)
Munitions Factory (2,430,000)

MORALE
Allied Radio Station (25,000)
V-Mail Deliveries (60,000)
Camp Talent Night (180,000)
USO Show (540,000)
Victory Parade (1,620,000)

OSS
Unclassified Information (25,000)
Sensitive but Unclassified (75,000)
For Official Use Only (225,000)
Classified (675,000)
Restricted Confidential (2,025,000)
Secret (6,075,000)
Highly Secret (18,225,000)
Top Secret (54,675,000)

MECHANIZED
Trade School Tinkerer (15,000)
Artillery Enthusiast (45,000)
Grease Monkey (135,000)
Garage Mechanic (405,000)
Metal Head (1,215,000)
Armor Technician (3,645,000)
Artillery Engineer (10,935,000)
Tank Commander (32,805,000)

Air and Sea
Lap Swimmer (6,000)
Air Show Enthusiast (18,000)
Salty Dog (54,000)
Friends in High Places (162,000)
Commandant (468,000)
Air Sovereignty (1,458,000)
Admiral of the Fleet (4,374,000)
Naval and Air Superiority (13,122,000)

If you have any of the missing information, please feel free to edit and save, or email it to me at choogiechesser@yahoo.com. Hope this helps. Thanks.